Years ago, as a young mother, I LOVED to crochet. I made all kinds of things for my children...jackets, ponchos, afghans. But over the years, I totally forgot how to do it...I couldn't even remember how to get the yarn on the hook. Over the last few years, I have wanted to start up again...a cute sock monkey hat pattern was calling to me.
but memory failed me...
So when Craftsy offered to let me try a class...I knew just what I wanted to learn...
Craftsy offers so many kinds of wonderful online classes...I have an acrylic painting class and a knife skills class in my library there already. There are baking and cooking classes, cake decorating, photography, sewing, painting, drawing, paper crafts, woodworking, needlework, knitting and crocheting, jewelry making, gardening...and so many more.
Crochet Basics & Beyond (w/Kim Werker)
I am really enjoying the class! The instructor has a relaxed, easy way of teaching and you can do it at your own pace. You can easily watch and crochet as you go. You can even ask questions as you learn, as well. I also like the option of repeating a 30 second section until you get it. There are 8 lessons in this class, each with many parts, It is perfect for the beginner and those wanting to learn stitches, troubleshooting, and basics.
We will even do an afghan in the course.
During the second lesson, we began practicing stitches...
I'm crocheting!!
I am loving it and I'm looking forward to taking more classes after this one!
If you have been wanting to learn a new skill...NOW is the perfect time!
To celebrate National Craft Month,
Craftsy is having a BIG Course Sale (up to 50% off!)...but only through Monday March 16th, 11:59 MT. They offer a money-back guarantee, too.
I hope you see something you like!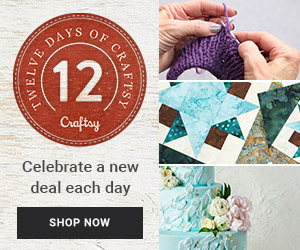 I am an affiliate for Craftsy. This post contains affiliate links
and I was provided with a course. All opinions are my own.
Until next time...I'll be crocheting...